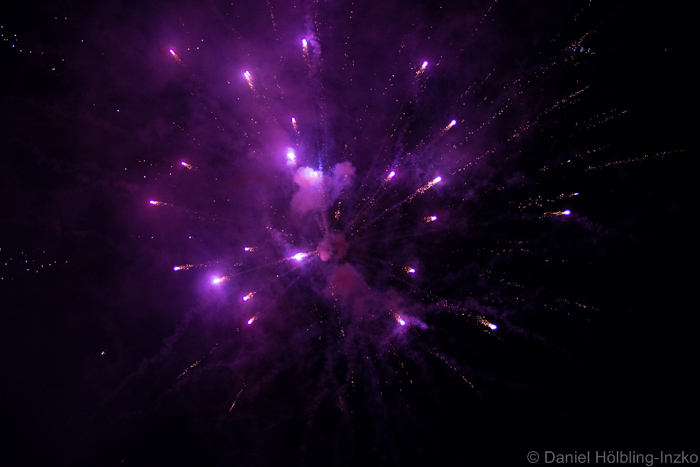 I have recently rediscovered my love for photography, and have been looking forward to New Year's Eve 2013 for quite some time as I expected to be able to get some pretty spectacular firework shots. The rationale was simple: Photographing stuff with a slow shutter speed is incredibly easy - anyone getting into photography should get a tripod and experiment with low shutter speeds and moving lights. And when applied to fireworks the results look really spectacular.
So I looked at a few places around Klagenfurt (my home town) for one with convenient access and a decent view on the action. I did not want to go too far out on any of the surrounding mountains since the weather had been a bit unpredictable lately, and I figured inside the city I'd at least see some fireworks, even when they are a bit obscured by fog. Outside you could end up with zero visibility on the action.
But still I needed something with elevation, so after visiting a few locations I decided on this nice view from Kreuzbergl: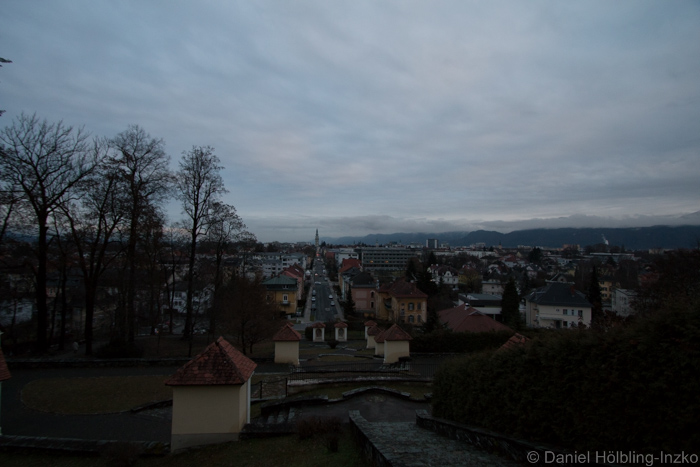 I figured the road straight to the city center would give the pictures some depth, while the sky around us should be filled with exploding fireworks.
So at 23:00 our party headed out to the chosen spot and on to my first lesson: Take the whole bag!
I figured I'd best use the EF-S 10-22mm for the fireworks and thought I could save myself the hassle of taking the whole heavy camera bag with me. So I left the camera bag in the car and just took camera + tripod with me. 20 Meters down the road I noticed that I had forgotten the lens hood and darted back to the car. I picked up the lens hood and ran back to where I had left the tripod, just when I remembered that I had forgotten the cable release in the bag too. At that point I decided to just pick up the whole bag and be done with it - really annoying.
Taking the whole bag was a great idea, because lesson #2 presented itself to me at 00:00 - I had not bothered to ask anyone who might know if there are any fireworks at all at Kreuzbergl. So when the new year came, the fireworks where concentrated on the horizon, but there where virtually none in the sky above me (and I was zoomed out to 10mm).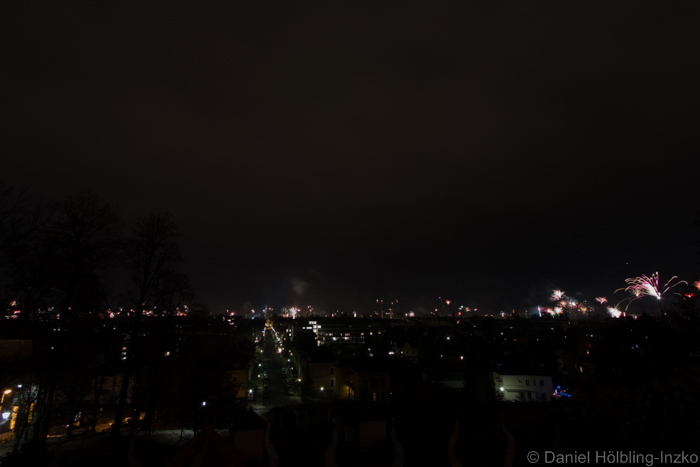 As you can see there where a lot of fireworks in the distance, but none above me. Apparently nobody shoots fireworks in this part of town :(. And I was now stuck with the wrong lens on my camera. Thank god I had taken all of my gear, so I decided to switch to the 70-200.
After changing the lens, screwing it to my tripod and adjusting my exposure I managed to get some decent shots of the fireworks. But the whole process had taken too long, and I missed most of the initial action. My friend next to me who shot at 55 mm focal length managed to get this really awesome shot (while my keepers consisted mostly of crops with one or two fireworks in the distance):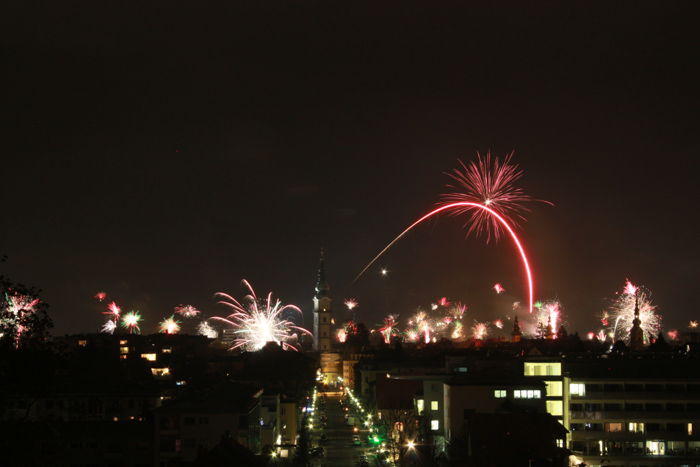 This then led me to lesson #3: Ask around for commercial fireworks.
Around 200 meters behind the spot where I was shooting towards the city center is a really nice restaurant that traditionally shoots a lot of fireworks. I did not know that! They waited a few minutes for the initial burst to die down, and right when I had finished switching from my ultra-wide lens to a telephoto they started lighting the sky right above me.
The fireworks display from Schweizerhaus was impressive. Had I not bothered with the rest of the city, just shooting the fireworks from the Schweizerhaus would have been awesome. Especially since it's location was very predictable, the delay between explosions was essentially fixed and they all exploded at roughly the same height. So if possible, ask around what hotels or restaurants put on a fireworks show and find out where they usually launch theirs. It's a lot more predictable than hoping for random fireworks to appear in your frame.
Anyway, at that point I took my camera off the tripod, and shot the fireworks @70mm 1/200 f/2.8 and got some really nice action shots of exploding fireworks. But once again I had the wrong lens, unable to do the shots I had planned initially.
So to sum up the lessons I learned this year:
Take the whole bag - you never know when you need another lens. (I never thought I'd need a telephoto when shooting fireworks!)
Either shoot in locations where you know there will be plenty of fireworks in your frame - or ask around.
Use the right lens. Great fireworks that cover only 20% of your frame look really unspectacular.
Ask for commercial fireworks displays. They are usually well done, their location is quite predictable and once you know where to expect them you can usually find a nice spot to shoot from knowing you'll get some action inside your frame.