You may have seen that I use Lijit to power the on-site search for my blog. Since Lijit by default uses a Google custom search to power this (nothing really wrong with that) I became quite unhappy with the results (Google for some reason doesn't like to index articles but rather indexes categories :(). Since I didn't find my own stuff through Google, getting the same bad results through Lijit was quite annoying.
So I tweeted this one day: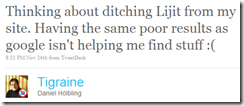 Well, took about 45 minutes to receive this: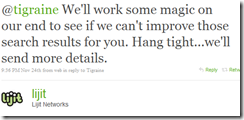 And this very nice Email alongside:

Well, that was 2 days ago. Search results that I get when using the on-site search are back to what I expect them to be and I'm once again able to find my own stuff.
Thanks Lijit. Great service!