I'm a keyboard addict. I love keyboards and they love me.
I never managed to break one in any way because I have never used one long enough to break it. I consider my keyboard the most important tool as a programmer, and that's why I constantly try to get the best available.
I guess that is over, I haven't bought a new keyboard for over a year now.
My last 3 keyboard buys have all been the Microsoft Natural Ergonomic Keyboard 4000 so I have one for every workplace I happen to be at. My 2 computers at home have one, my desk at work has one, it's just that great!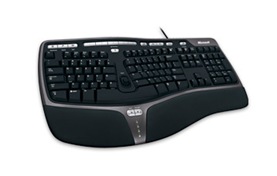 I got introduced to Ergonomic keyboards through the Logitech Ergonomic Desktop Freedom Pro (or at least I think it was called that way) and used it long enough to really learn how to properly type. It was good compared to what I was using before (10 pound IBM bricks) and it was the first keyboard I actually bought myself (for the ridiculous amount of 280€ as a 16 year old). Unfortunately Logitech discontinued the ergo series and Microsoft's old Natural keyboard was discontinued too so I switched back to normal keyboards for quite some time (trying out all sorts of fancy keyboards like the Fingerprint Keyboard etc) before I found the Microsoft Natural 4000.
At that point I haven't used a ergonomic keyboard for some years so I was hesitant, but I got lured by the price. 40€ is nothing after having spent 100€ on the Logitech G15 (worst keyboard ever) and I was blown away by what I got!
Typing is so convenient on this keyboard, and my wrists feel a lot better after extended periods of work than they did before on the (ergonomic nightmare) G15 (we're talking about magnitudes of >300% here).
The leather I rest my wrists on feels very comfortable and soft even after a year of extensive use.
The keyboard also comes with some sort of tilt-attachment that creates a reverse slope. It's unusable if you want to play games, but for typing it is very comfortable to not have to bend your wrist to access keys.
Also notable is that the keyboard comes with a standard pgup/pgdown layout instead what makes working pretty easy once again (who designed the DELL keyboards should be crucified for the Pos1/End placement!).
Some shortcomings:
No Next/Previous Media functionality. Only Play/Pause and Volume control buttons.
No lock workstation button, I had to remap my Calculator key
Zoom wheel in the middle of the keyboard is pretty much useless.
Still, the best keyboard you can get.