How many of you know Windows Live?

Windows Live is Microsofts new way of doing online applications. They changed almost every one of their services to match the Windows Live brand. Hotmail, MSN Search, MSN Messenger etc, all of those are now called Windows Live Search/Hotmail/Messenger.
And while at it Microsoft also released two cool new desktop applications called Windows Live Writer and Windows Live Photogallery! (You can get them at: get.live.com)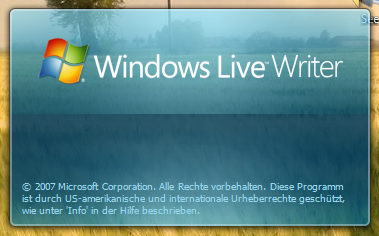 How do you write your blog posts? Most people do so in their browser using those incredibly bad WYSIWYG inline HTML editors their blog software came packed with. When they post Images they do so after resizing it in Photoshop etc etc.
Now, that somehow works. I mean, most blog engines have some AJAX in place to save your drafts every few seconds and uploading works mainly through the browser. So how could this really be improved?
By installing Live Writer, handing over your blog address and login credentials and being set to go. Live Writer downloads the blog styles from the web, automatically checks for supported stuff on the blog engine and presents you with a perfectly intuitive and great interface for writing your blog posts. You can easily drag and drop, insert tables, images, links without any need to ever get down to the HTML source. And of course you can insert images, but instead of firing up Photoshop and doing the resizing yourself, Live Writer is doing it for you (while being able to add blur, shadows, border, watermarks etc).
You can even use Live Writer to edit already published content or create/edit new pages (if your blog engine supports that). To be honest, since I've been using Live Writer I haven't seen my wp-admin page for anything else than deleting Askismet spam!
Here Screenshot of Windows Live Writer while writing this post: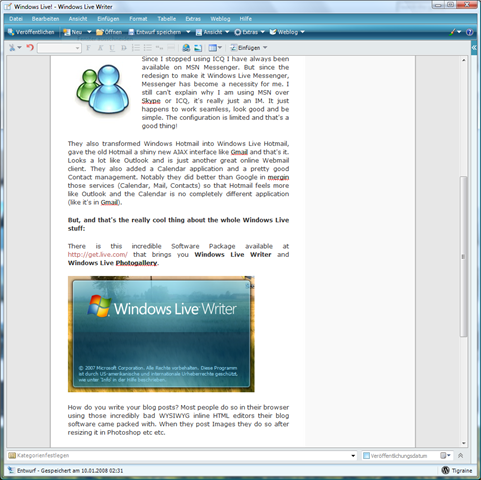 Windows Live Photo Gallery is the other great new app coming with Windows Live. Although it's not completely new, it's just a better version of the Windows Vista photo gallery. It does the same thing, it watches the filesystem for changes and shows them in a very clean intuitive way.
What's changed from the Vista default version is built-in support for uploading photos to Flickr or Live Spaces. And, that's why I started using it: It comes with a great new feature called "Create panoramic"!
It's so damn simple, take two pictures and click one button. Voila, you get a panoramic view like this:
Result: 
The final image still needs cropping, but that's something Live Photo Gallery learned since it's appearance in Windows Vista. Simple fixing like red eye removal, cropping, color adjustments or sharpness can easily be done from within Photo Gallery.